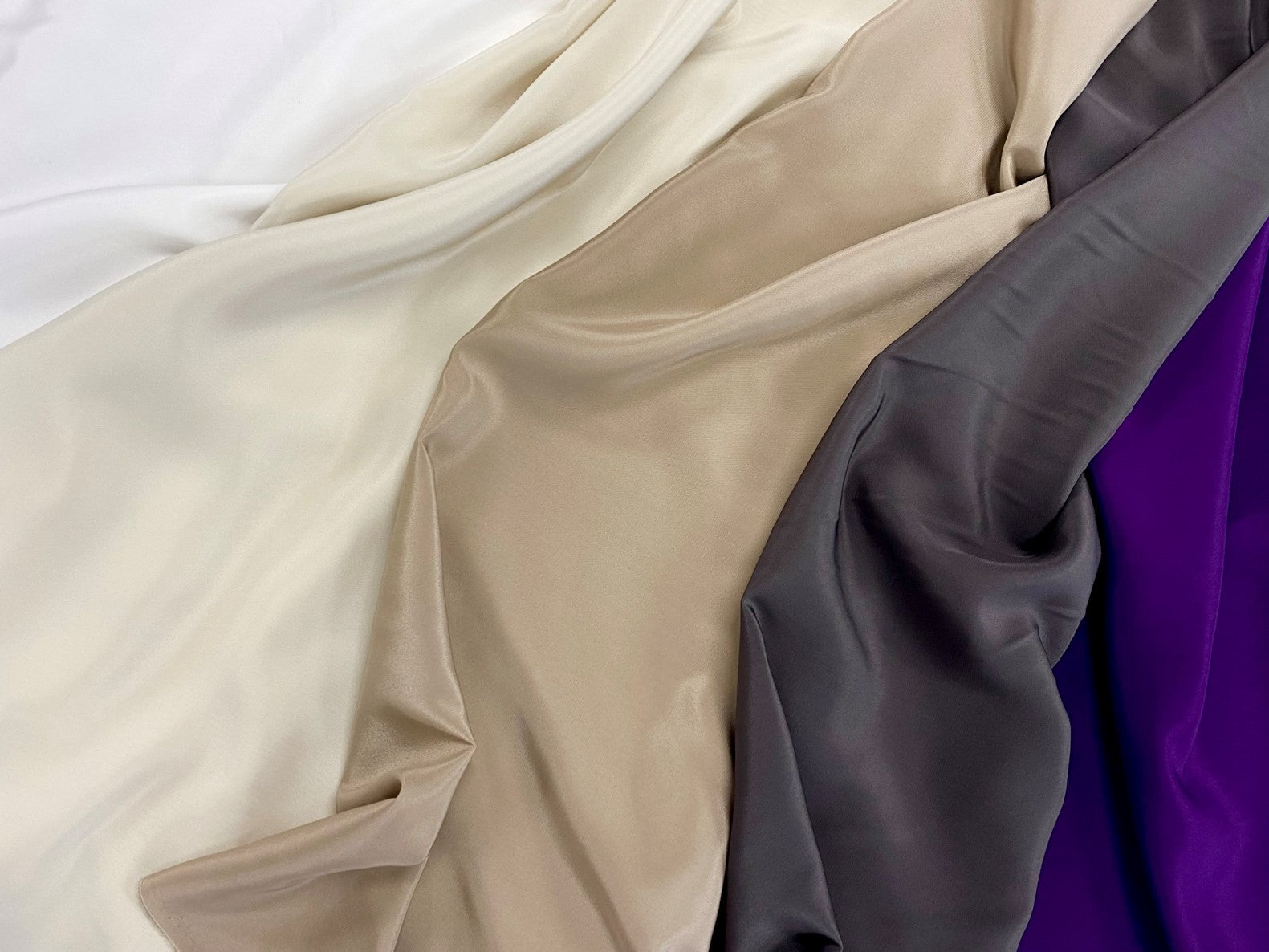 Crepe de Chine 
If you're a fabric enthusiast, you'll know that crepe de chine is one of the most popular crepe fabrics in the textile industry. It is a versatile fabric that is used to manufacture all kinds of garments that are comfortable and classy.
Image via Pinterest
About crepe de chine 
Crepe de Chine got its name from the French phrase for 'crepe from China'. Some sources claim that the fabric dated back to the Imperial ages in Ancient China but rose to fame in the 1960s when it was worn on the red carpet by Hollywood stars. 
It's a soft, smooth fabric that has a matte finish and a uniquely ripple-textured surface. Traditionally, it was made from silk, however, in modern times, nylon, polyester, cotton, rayon, or acetate can also be used to create this silky cloth. Crepe de chine is a well-loved fabric for making garments due to its lightness, durability, wrinkle resistance, breathability, and luxurious feel. 
A modern runway look and a vintage 40's day dress.
Applications 
Crepe de Chine initially was only used to create women's garments but is now used for both men's and women's fashion. is commonly used to make various types of clothing, including:
Suits  -  Dresses  -  Skirts  -  Blouses  -  Shirts  -  Lingerie  -  Scarves  -  Shawls  -  Bridal wear 
A fun Maison Margiela 2020 runway look
Care instructions  
When handling crepe de chine, it's best to be gentle with it as silk is the main material used to construct it. We recommend dry cleaning it if possible to avoid damaging it. When ironing the fabric, ensure you're using the lowest heat setting and iron through a pressing cloth.
If dry cleaning is not possible, you can wash it by hand as it is fragile material.
Use the washing machine's most gentle settings, either hand wash or delicate mode.

Choose a soft gel or liquid washing detergent rather than powder to avoid bleaching.

When drying, avoid direct sunlight. Before hanging your crepe de chine garment out to dry, soak up excess dampness with a cotton towel. Drying with heat or in direct sunlight can cause the fabric to become more fragile and lead to quicker wear and tear. 

Use a cool iron setting on the inside of the garment. 

When storing crepe de chine garments, allow them to have access to air. 
Shop crepe de chine in Australia from Silk World 
If you want to experience the luxury of the silky crepe de chine fabric, visit Silk World. We offer various colours for you to choose from, to create your own clothing or accessories.