How To Embroider On Tulle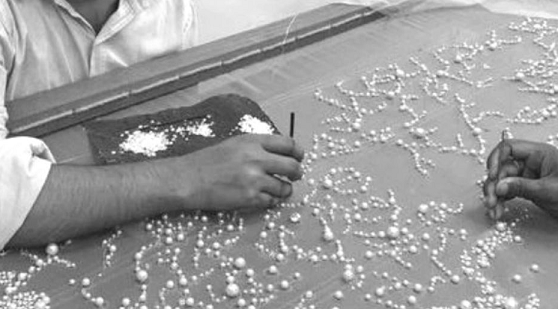 Due to the transparent and fragile nature of tulle fabric, you'd be forgiven for thinking that embroidering on this type of material is impossible. Difficult? It can be, but at Silk World, we're here to equip you with the confidence to go away and create your own masterpiece. You may be wondering, "why use tulle for embroidery?" but the answer is so simple: not only is it incredibly fun, but the transparency of the tulle can add something creative to your artwork. Furthermore, you are only limited to your imagination: you can embroider a design of your favourite animal or plant, or even use your face silhouette as the baseline!

So, let's get started with 4 tips on how to embroider on tulle.
Stretch the fabric.
If you want to make smooth stitches, you'll need to stretch the fabric in one direction. If you don't stretch the tulle, it will be easy to create bubbles and then you'll lose track of where to place your stitches. Handle with care when stretching your tulle. Try to place it flat and as naturally stretched out as possible. Then, place the outer ring on top of the inner. Finally, tie up the hoop. If this has been done correctly, you won't need to pull the tulle in the hoop for extra strain.
Be gentle when pulling on the threads.
It goes without saying that tulle is extremely fragile. As you begin to stitch on tulle, ensure that the thread in your hand is very loose. Keep this in mind because as soon as you pull a little bit harder, you risk making a hole in the fabric. In short, be gentle, especially at the beginning.
Consider the placement of your threads.
Now that your tulle is in the hoop, you're probably wondering how to stitch so that the thread doesn't appear through the fabric. Unfortunately, there's no way around this, but we think it adds to its charm. So, we recommend you use it to your advantage and incorporate it into your design.
Alternatively, you can use a running stitch instead of the backstitch for contours. When you weave the stitches through the fabric this way, it ensures that the stitch underneath is as important as the ones above.

Attach the threads with care.
We recommend securing the thread with a tight knot underneath one of the lines, but you can also attach the thread with stitches to add some extra stability on the back of your design.

Start your own project with embroidered tulle fabric...
Only at Silk World will you find stunning embroidered tulle fabric in Australia at wholesale prices. Browse our collection of
embroidered tulle
now.