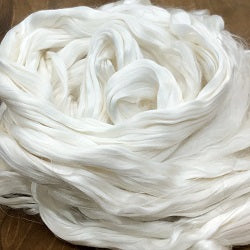 Are you wanting to know what is and where you can get mulberry silk?
We have your questions answered. 
The biggest question we get asked is, do you sell mulberry silk?
YES WE DO!

What is Mulberry Silk?
 Mulberry silk is the highest quality silk available for purchase.
The silkworms are only fed on mulberry leaves, This results in the finest silk available.
The silkworms will spin a cocoon and these cocoons are spun into raw silk fibers
Products made from 100% Mulberry silk are among the most durable and produce the most luxurious silk goods.

Benefits of Mulberry Silk
- 100% natural, odorless and hypoallergenic
- Strongest of natural fibers.
- As it is a breathable fabric and a natural temperature
regulator, silk helps the body retain heat in cold weather
while excess heat is expelled in warm weather, helping your
body maintain a comfortable, natural temperature.
- Silk is hypoallergenic; it does not attract dust mites
and is a natural fungal repellant. As it does not conduct
static electricity, sleeping on silk helps reduce hair breakage.
Unlike cotton, silk does not draw moisture away from your skin and hair, but encourages a proper moisture balance, while its extremely smooth and soft texture proves to be beneficial for those with sensitive skin conditions (e.g. Eczema).

We have a wide range of silk and are classified as mulberry silk.
See below some of our beautiful silks on offer.
Sandwash Satin 
This lightweight 100% silk sandwash Satin features
a smooth luster finish as well as a matte finish;
both sides can be utilized. It has a super soft handle
and is perfect for  draping and layering as well
as ideal for blouses, lingerie, or a luxurious lining.
Colour: Lilac 


Faille 
This is a heavyweight 100% silk featuring a matte finish
on both sides. It has a soft/fall handle which makes it
perfect for draping as well as ideal for pants,
skirts, dresses, tops and bridal/formal wear. 
Colour: White 


Georgette 
This semi-sheer lightweight 100% silk
features a matte crepe textured finish and super
soft handle making it ideal for draping and layering.
Colour: Apricot 


Dupion 
This medium weight 100% silk dupion features a lightly slubbed
texture throughout. It has a stiff/crisp handle which makes it
perfect for structured designs and is ideal for suiting, dresses,
tops, bridal/formal wear, and soft furnishings.
Colour: Clove/1698