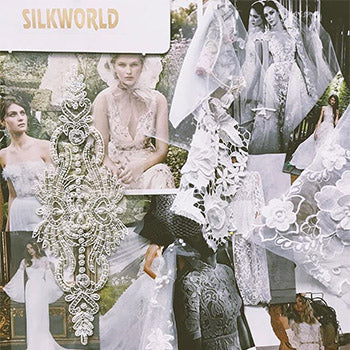 Wishing you a safe and Happy Easter
---
Autumn is here and we have plenty of beautiful
new stock in store and online -
Check it out!
---
PANTONE
left to right- 1580 Orange 110cm,
1595 Fiesta 145cm, M31121/1 110cm,
1512 Red 115cm
Here is one of our favourites from 'the fashionable colors for 2018 released by Pantone Color Institute™.'
'PANTONE 17-1563 Cherry Tomato
The red tomato gets some serious competition from cherry tomato – an orange red which exudes heat and energy. So courageous it can never be ignored.
---
NEW ONLINE
k24731 embellished tulle
140cm
Sw523 embellished tulle
125cm
Sw972 embellished tulle
125cm
K24510 embellished tulle
110cm
We have added some beautiful new embellished tulles to our website
---
Say Yes To The Dress
Our inspiration board - featuring some of our favourite fabrics and inspiration images from VOGUE.
BRIDES
B R I D E || Repost from @studiocbridal on Instagram -
Thrilled to share with you Eilish's wedding dress!!

B R I D E || The absolutely stunning @clarepettyfor1
in our K24462 beaded tulle on her wedding day! We love, love, LOVE this jumpsuit!
Designed by @maddypetrulis 😍 #silkworldau

---
WHAT'S ON?
The Virgin Australia Melbourne Fashion Festival came to an end earlier this month and the designers did not disappoint!
Peony, Almond and Pale Blue Sandwash Satin

Key Trend Alert!!

Dreamy and Romantic

We have been inspired by the dreamy and romantic fashion floating down the runway this year.

Lots of beautiful soft pastel silks with graceful drape and lustre.


Motif: A12426

Key Trend Alert!!

Embellishment

Stepping away from minimalism we saw embellishment standing out as a key trend on the runway this year.

Adorning everything from denim jackets to heavily embellished bridal gowns.


---
Marimekko exhibition at the Bendigo Gallery

This exhibition traces Marimekko's meteoric rise from the 1950s to the present, and explores the dualities that define its aesthetic. Its iconic fabric patterns and unconventional ready-to-wear outfits brought colour and informality to an otherwise self-conscious fashion world. With more than 60 outfits, swathes of original fabrics, homewares, sketches and other archival materials, the exhibition focuses on the work of the talented individuals who defined this local textile practice and created its internationally recognisable designs.

bendigoartgallery.com.au/Exhibitions/Now_showing/Marimekko_Design_Icon_1951_to_2018


---
One Fine Day Wedding Fair

Sunday, 27th May
Claremont Showgrounds
1 Graylands Rd,
Claremont, Perth 6010

One Fine Day is a refreshing alternative to the traditional bridal fair, showcasing a handpicked collection of sought-after vendors in the wedding field

onefinedayweddingfair.com.au/our-events/perth/
---
NEW ONLINE
Givenchy

Hubert de Givenchy, the French couturier who upheld a standard of quintessentially romantic elegance in fashion for more than four decades, dressing the likes of Jackie Kennedy Onassis, Grace Kelly and memorably Audrey Hepburn, in a little black dress, in the movie "Breakfast at Tiffany's," died on Saturday at his home outside Paris. He was 91.

nytimes.com/2018/03/12/obituaries/hubert-de-givenchy-dies.html
---
New Indent RAnge
Attention Designers!

We have just receieved a beautiful new range of indent fabric headers in our revamped indent room here in Melbourne!

Contact us to book your appointment to view the range.


---
SOCIAL
Follow us on Social Media to keep up to date!
Instagram instagram.com/silkworldau
Facebook facebook.com/silkworldau