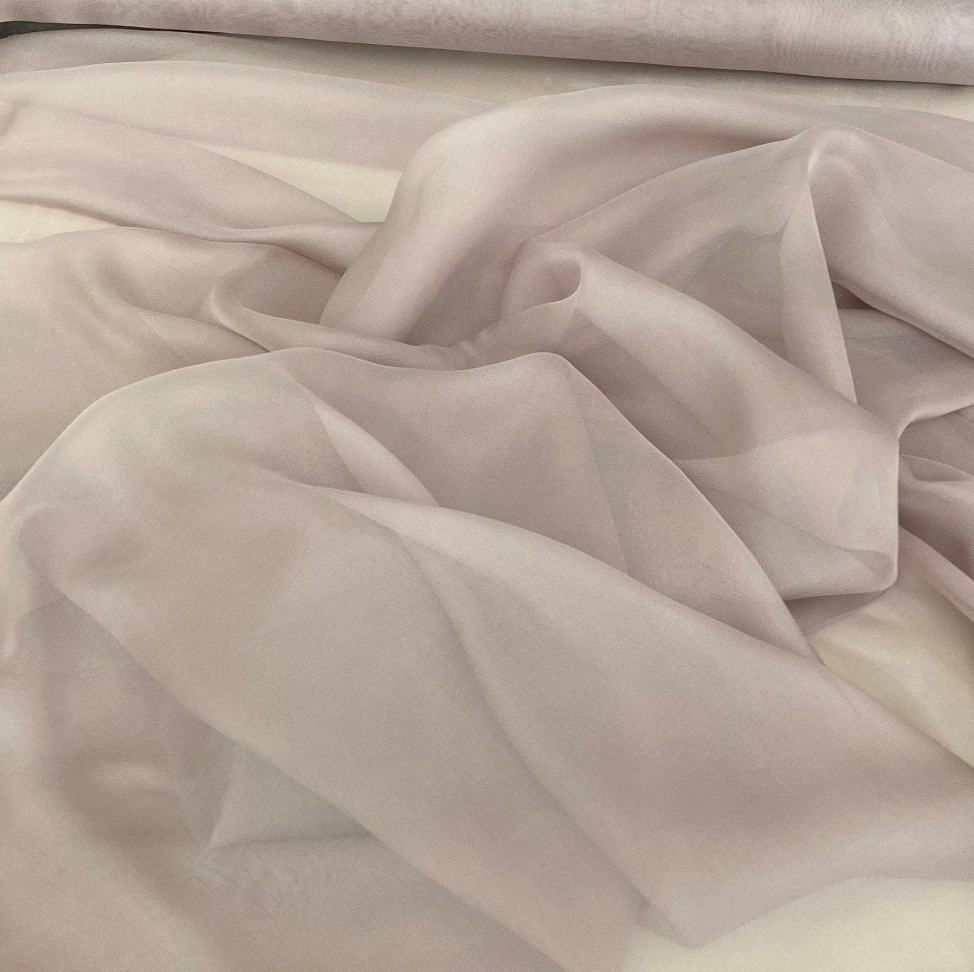 Chiffon fabrics are sheer fabrics made from a combination of silk, rayon or polyester to produce a lightweight and soft material. Known for its flattering translucent look, chiffon fabrics are often used for bridesmaid dresses, evening gowns or other flowing, feminine outfits. In addition, you can easily dye chiffon fabrics in a variety of colours, which provides designers with the flexibility to construct the pieces of their dreams.


How chiffon fabrics are made.
Chiffon fabrics are made from silk, cotton or other synthetic fibres such as polyester and nylon. The production process usually starts by spinning the silk and cotton into two separate threads. These threads are then twisted together to create a single thin strand to weave the chiffon fabric (by a machine or hand). After the weaving step has been completed, the fabric is steamed and stretched to prepare it for dyeing. After dipping the fabric in a dye bath containing different chemicals, the fabric is dried and pressed before going through an ironing machine to smooth out any left wrinkles or creases.


What makes chiffon fabrics so unique/
Chiffon fabrics are one of the most versatile fabrics because you can use them for different purposes. You can use them to construct standalone pieces to create an illusion effect or overlay them on top of other materials without adding too much bulk. The flexibility of chiffon allows them to drape beautifully over the wearer's body, accentuating any body shape without constricting movement. You can also use chiffon to enhance your garment because they perfectly complement fabrics such as satin, organza or lace appliqués without overpowering the base material.


Applications/
Traditionally, chiffon fabrics were used to construct clothing items for upper-class women in Europe in the mid-19th century. Today, chiffon fabrics are more in the fashion design, typically used to create various types of clothes, including:
Eveningwear
Wedding dress
Bridesmaids dress
Decorative pieces


Care Instructions
Chiffon fabrics are durable enough to withstand everyday wear and tear. However, they're delicate at the same time, so extra care and maintenance are needed to extend the lifespan of your chiffon fabrics. Here are a few simple care instructions that you can follow:
Check your garment tag to see if the manufacturer has included special garment care instructions.
If you're handwashing your chiffon fabric, always use cold water and mild detergent, then hand them away from direct sunlight or other heat sources.
If you dry your chiffon garments in a tumble dryer, set your machine on low heat and gentle cycle. Chiffon is extra delicate when wet, so avoid overloading your machine with too many clothing pieces to prevent damage to your fabric.

Shop online for chiffon fabrics at Silk World
Buy your chiffon fabrics from Silk World to experience quality chiffon in Australia. We offer chiffon garments in various colours to accommodate different designs and preferences. Alternatively, you can opt for our
satin chiffon fabrics
for a combination of smooth and lustre finish for your clothing.